What you will Learn in this article?
Summary
Ingredients in Doritos.
General ingredients that make Doritos non-vegan?
Doritos Flavors that are vegan and not vegan in the United States!
Doritos Flavors that are vegan and not vegan in the United Kingdom!
Other Vegan Alternatives to Doritos
Learn to Make Your own Doritos at home!
Summary – Are Doritos Vegan?
Well, most of the Doritos are not Vegan due to the presence of milk in one form or another, however, I have sorted out all the Doritos Flavors (sold in both USA and UK) into vegan and non-vegan categories below in the article.
Introduction to Doritos and veganism.
Doritos are one of the most popular chips around the world. Nearly a huge chunk of the population, including me, are a fan of it.
This snippet from Google Trend shows a consistent increase for "Doritos" :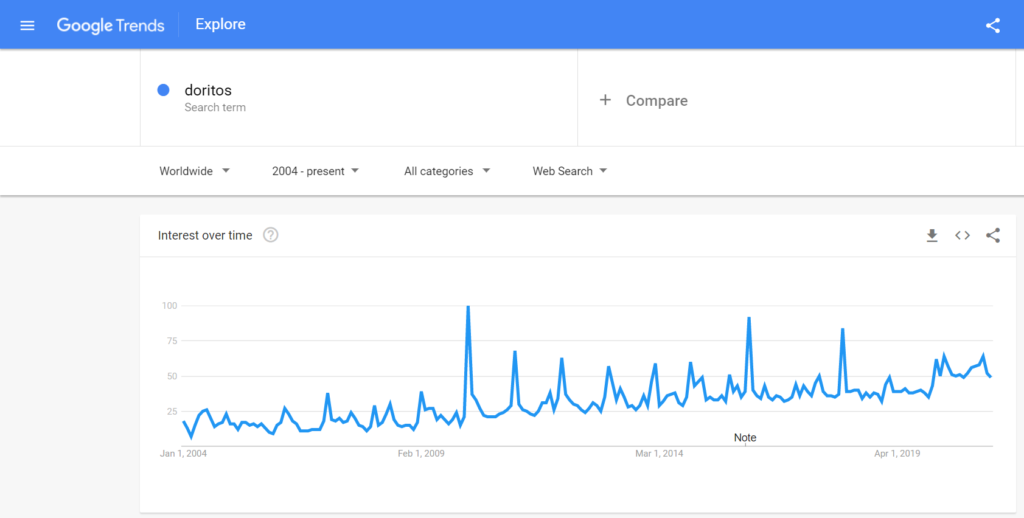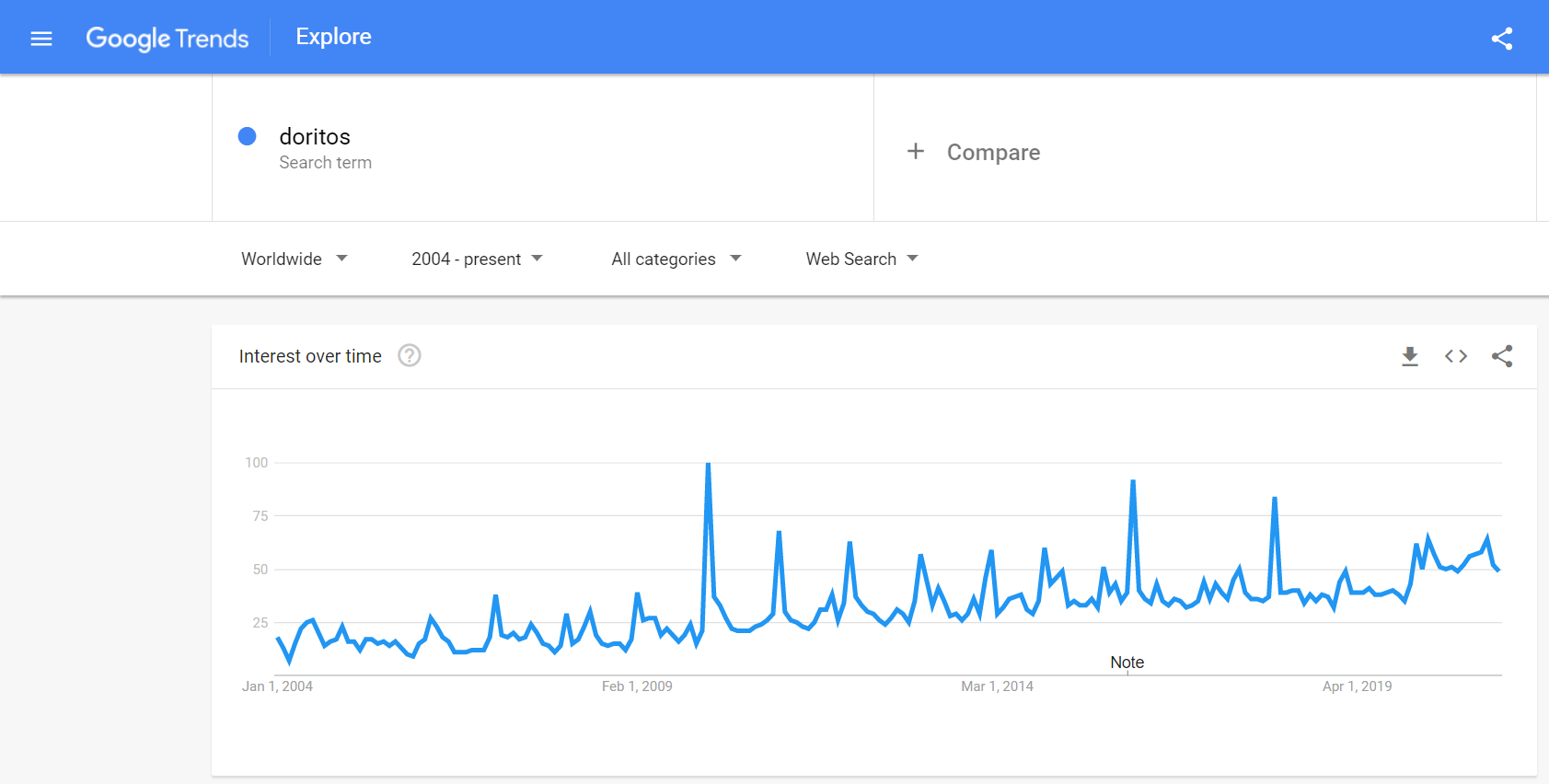 They are one of the most favorite tortilla chips, and also they come in various flavors.
Corn is the main ingredient these tortillas contain, and many people even use them in some dishes.
I personally use them as snacks in the evening, and they add a great crisp to meals like burgers. Moreover, Doritos are great nourishment for our supper times.
I've always enjoyed eating these triangular, spicy tortillas all my life.
Wherever I went, I always had one bag of Doritos available to munch and enjoy in my free time.
Since I started to adapt to a vegan lifestyle, several thoughts were running in my mind about these chips.
I always question their relationship with veganism, and started to search for the answer to this question "are they even vegan-friendly"?
Most of the vegans like me also have the same doubt (Check the snippet below)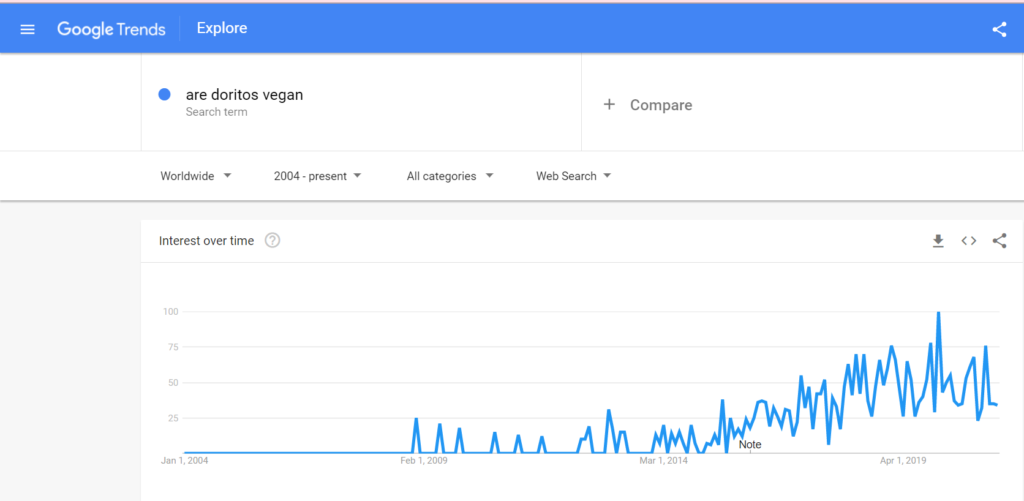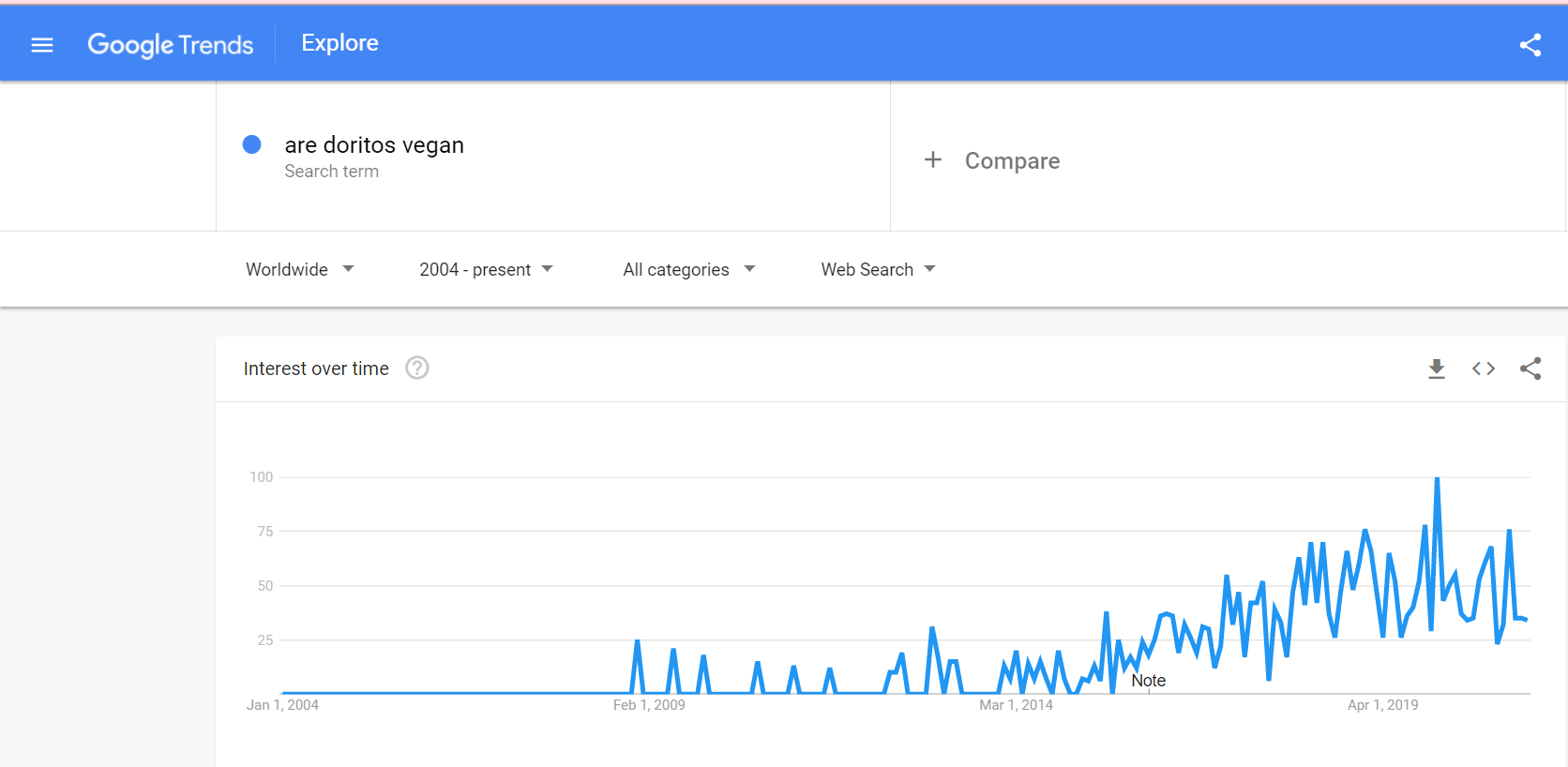 To get an absolute answer, I researched and researched and now, I like to share with you what I have found.
Below, you'll get a holistic analysis of this issue, and probably you will find answers to all of your questions.
Ingredients in Doritos
A bag of Doritos contains around 26 ingredients, which shows the amount of dedication that the manufacturer shows in making these tortillas. Below, we'll brief on the main ingredients of Doritos and find their relationship with veganism.
Corn
Without a doubt, corn is the base ingredient of Doritos. It's obviously plant-based and hence, vegan-friendly. The manufacturers first hydrate the corn, mix it with cornflour, and finally fry it into vegetable oil. Vegetable oil is another main ingredient used for frying corn, and the type is commonly corn, canola, or sunflower oil.
Cheddar Cheese
Yes, Doritos contain cheddar cheese derived from milk, cheese cultures, and enzymes. Since it comes from dairy products, it's not vegan-friendly because milk is an animal-derived component.
Whey
Sadly, your favorite tortillas also contain whey, a by-product of milk. Most commonly, manufacturers add whey in these chips to add bulk and include a source of protein.
Buttermilk
These dairy ingredients don't stop, don't they? Yes, Doritos also contain buttermilk, another by-product whose purpose is to churn out butter from cream. Manufacturers include buttermilk in Doritos to give these tortillas a creamy texture.
Romano Cheese
Well, Doritos contains many types of cheeses, and Romano is another one of them. It also comes from the animal-derived product, which renders it non-vegan.
Whey Protein Concentrate
It's another non-vegan ingredient that is added to increase the spreadability of cheese in the tortillas. However, it's derived from milk and is a by-product of milk. Hence, it's another non-vegan ingredient.
Natural and Artificial flavors
Natural flavors are derived from an actual food source, while artificial colors are created in labs. Doritos contain a small amount of these flavors, and the major purpose of these is to enhance the flavor of food and make them more appealing.
Colors
Yellow 6, Yellow 5, and Red 40 are some of the artificial colors found in Doritos. These are what give these tortillas their attractive shape.
Spices
Well, I include all of the spices in just one section because Doritos contain a myriad of flavor-enhancing spices. Some of them include salt, tomato powder, garlic powder, onion powder, and some secret spices of Doritos.
Acids
Doritos also contain citrus and lactic acid. Lactic acid is a sugar agent which enhances acidic flavoring, while citrus acid is a sour flavoring agent that keeps tortillas fresh for an extended period.
Ingredients that makes Doritos Non-Vegan
A bag of Doritos contains around 26 ingredients, which shows the amount of dedication that the manufacturer shows in making these tortillas.
However, Most of the Doritos flavors are not vegan-friendly due to the presence of Milk and Milk derived other dairy products.
The Milk derived items used in Doritos, can be of the names like Whey, Buttermilk, Cheddar Cheese (usually derived from milk), Whey Protein Concentrate, Skim Milk.
Milk and other dairy items are the sole reasons that make most of the Doritos not suitable for vegans.
Are Doritos vegan-friendly in 2022?
As evident from the ingredients mentioned, it's obvious that Doritos are non-vegan because they contain animal-derived dairy products.
As a matter of fact, this is not an exhaustive list of ingredients of Doritos, and the list varies from flavor to flavor.
The ingredients mentioned above are the standard ingredients found in most of the Doritos.
However, some flavors can even contain more ingredients.
Flavors like ranch dipped hot wing include chicken powder and chicken broth, which classify them strictly as non-vegan.
There are around 16 flavors of Doritos in the US (at the time of writing this article), and we found that only one of them can be a vegan-friendly product.
(Do not worry, I have contributed a specific section below for the different types of Doritos flavors that are vegan and not vegan for vegans residing in the USA and UK.)
Spicy Sweet Chili is the most vegan-friendly Doritos available for vegans.
PETA recognizes only this flavor as a vegan-friendly product because it doesn't contain any milk ingredients.
However, some sources even list Doritos Blaze and lightly salted as vegan-friendly products, possibly due to the absence of milk ingredients.
However, it's quite a debate to decide on which Doritos to eat.
Many experts suggest avoiding eating them because there's a high chance of cross-contact between different flavors.
All of these flavors are manufactured in a single factory, and while numerous flavors make use of milk ingredients, it's possible that they can contact other flavors.
Moreover, the UK website of Doritos clearly mentions that it's highly like tortillas are made in a setting that also handles dairy products. (Doritos Lightly Salted Tortilla Chips | Doritos UK, n.d.)
Therefore, if you are ok with these minute obstacles (cross-contamination), you are easy to go to eat Doritos that are vegan.
Doritos Flavors Vegan in USA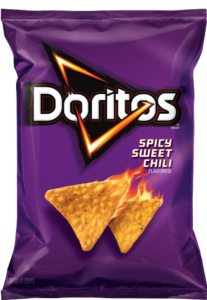 The only Doritos Flavor that I consider Vegan (I am not too strict to be harsh on myself) in the US is Spicy Sweet Chili Doritos. It is the sole flavor that meets almost all the requirements to be Vegan-friendly.
However, this can not be the case for some strict vegans due to 3 ingredients used in this flavor :
Sugar – In the United States, not all sugar is vegan. Most are, but some are made with bone char, so it depends on the supplier here.
Natural colors – Some natural flavors are vegan, and some are not. Only Doritos knows about it.
Caramel – Caramel is usually just made from sugar.
Doritos Flavors that are Not-Vegan
in USA
Below is the list of Doritos flavors that are specifically non-vegan in USA and this is because of the use of cheese made from animal enzymes and this has been also officially confirmed by the company.
Many of the cheeses in our seasonings are made with animal enzymes, similar to cheeses sold in the grocery store. If you want to avoid these enzymes, you might want to avoid our snacks that list "cheese" as an ingredient. Only a few snacks have animal flavors and they will be listed on the ingredient statement, not hidden under "natural flavors."
Official Statement
| | |
| --- | --- |
| | Doritos 3D Crunch Chilli Cheese Nacho |
| | Doritos 3D Crunch Spicy Ranch |
| | Blazin' Buffalo & Ranch Doritos |
| | Cool Ranch Doritos |
| | Dinamita Chile Limon Rolled Doritos |
| | Doritos Flamas |
| | Flamin' Hot Nacho Doritos |
| | Nacho Cheese Doritos |
| | Poppin' Jalapeno Doritos |
| | Salsa Verde Doritos |
| | Simply Organic White Cheddar Doritos |
| | Simply Organic Spicy White Cheddar Doritos |
| | Spicy Nacho Doritos |
| | Taco Flavored Doritos |
| | Tapatio Doritos |
Vegan Doritos Chips and Dips Flavors in UK
I found Two Vegan Doritos Chips and Two Vegan Doritos Dips.
But, Doritos Chilli Heatwave might be having some cross-contamination with milk.
So if you are OK with some sort of cross-contamination (personally I would suggest you do not overthink about it.) then the following are the flavors ok to be eaten by a vegan :
| | |
| --- | --- |
| | DORITOS CHILLI HEATWAVE (It is specifically on the company website mentioned that "Made in a factory that also handles: Milk".) |
| | DORITOS LIGHTLY SALTED |
| | DORITOS MILD SALSA DIP |
| | DORITOS HOT SALSA DIP |
Doritos Chips and Dips Flavors that are not vegan in UK
| | |
| --- | --- |
| | DORITOS STAX ULTIMATE CHEESE |
| | DORITOS STAX SOUR CREAM & ONION |
| | DORITOS STAX MEXICAN CHILLI SALSA |
| | DORITOS STAX FLAMING CHICKEN WINGS |
| | DORITOS FLAME-GRILLED STEAK |
| | DORITOS TANGY CHEESE |
| | DORITOS COOL ORIGINAL |
| | DORITOS GUACAMOLE |
| | DORITOS FLAMIN' HOT TANGY CHEESE |
| | DORITOS HINT OF LIME |
| | DORITOS NACHO CHEESE DIP |
| | DORITOS COOL SOUR CREAM AND CHIVES DIP |
Vegan Alternatives to Doritos
Being a vegan might be difficult, but you don't have to worry. Here are several perfect alternatives to Doritos that will make your day.
Pringles Tangy Buffalo Wing: Good news is that most flavors of pringles are vegan-friendly. Original pringles totally vegan, and PETA confirms this new flavor to be a vegan-friendly go.
Fritos Original Corn Chips: In search of perfect crisps for the go, Fritos is your best acquaintance. They are made from plant-based ingredients, and PETA even confirms them as perfect vegan-friendly substitutes.
Tesco lightly salted tortilla chips: If you like some salty tortillas, then these might be your best option. They contain only three ingredients which are totally plant-based and perfect for a quick munch. Check them up and fulfill your cravings with them.
Make Your own Doritos at home!
Learn to make your own vegan Doritos in this 50 Seconds video.