Are Skittles Vegan and cruelty-free?
Skittles are vegan but not cruelty-free. Use of ingredients made from palm oil in both variants of the USA and UK Skittles make them non-cruelty free. (however, they are vegan) Moreover, no clear information is available on flavoring agents used in both USA and UK variants of skittles, the indulgence of its parent company Mars Inc. in animal testing, and the use of Artificial colors such as the Red 40 in the USA variant of skittles makes them non-cruelty-free.
You can try these alternatives also:
I have discussed the topic in-depth, provided my research & insight on each of its ingredients, and tried to answer the question " Should you consume skittles even if they are vegan?"
What are Skittles?
We often see today how people are always drawn towards comparisons, arguing who or what is the goat of a particular field.
This article will be aimed at discussing the GOAT of sweets and candy i.e skittles.
Skittles are fruit-flavored confectionery, with a round chewy exterior with the letter 'S' imprinted on them.
On the inside, these colorful candies taste exactly as they look on the outside, chewy and full of flavor.
The interest of the people has remained constant albeit we can say a slight increase can be observed as seen from google trend:-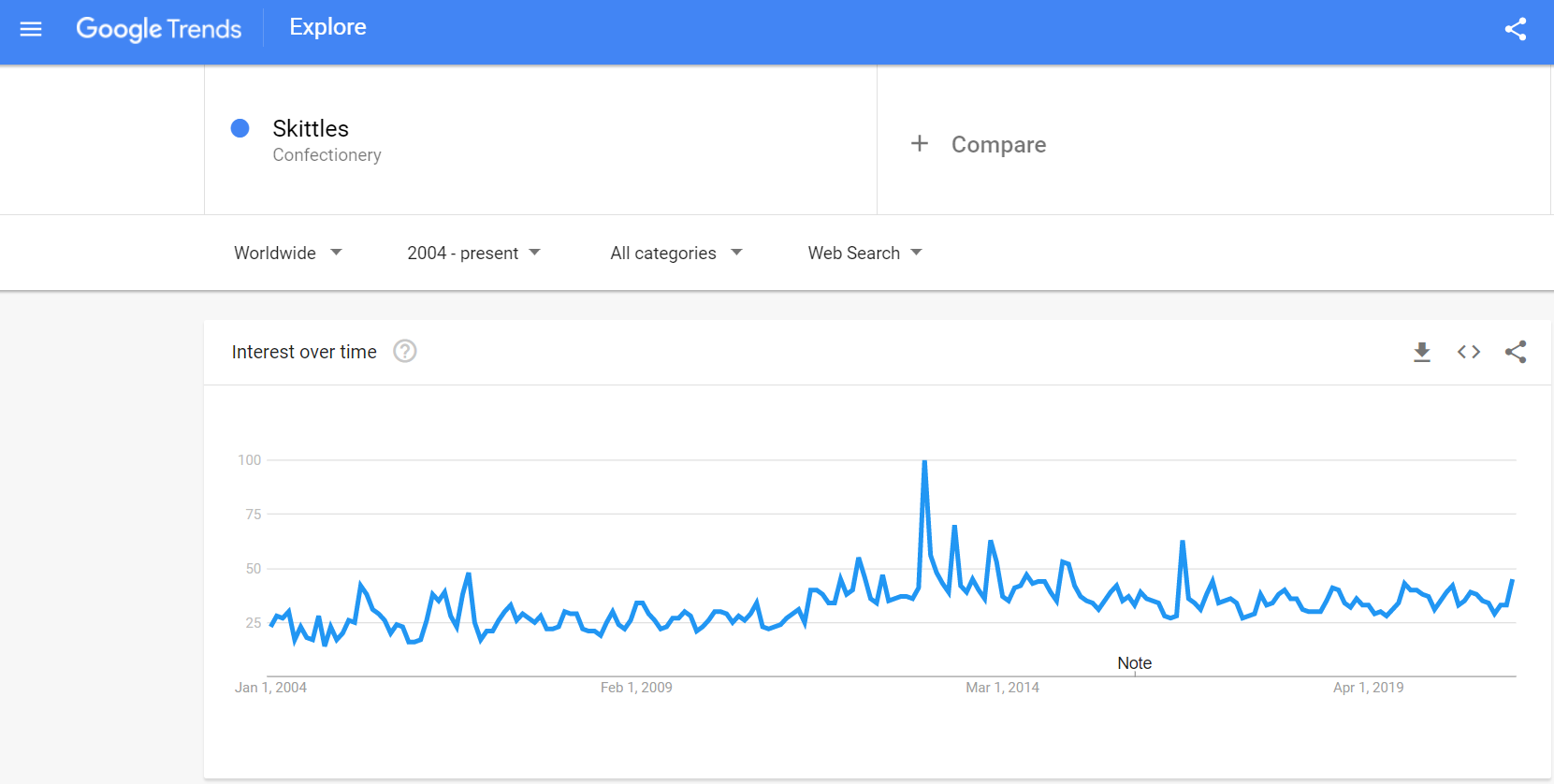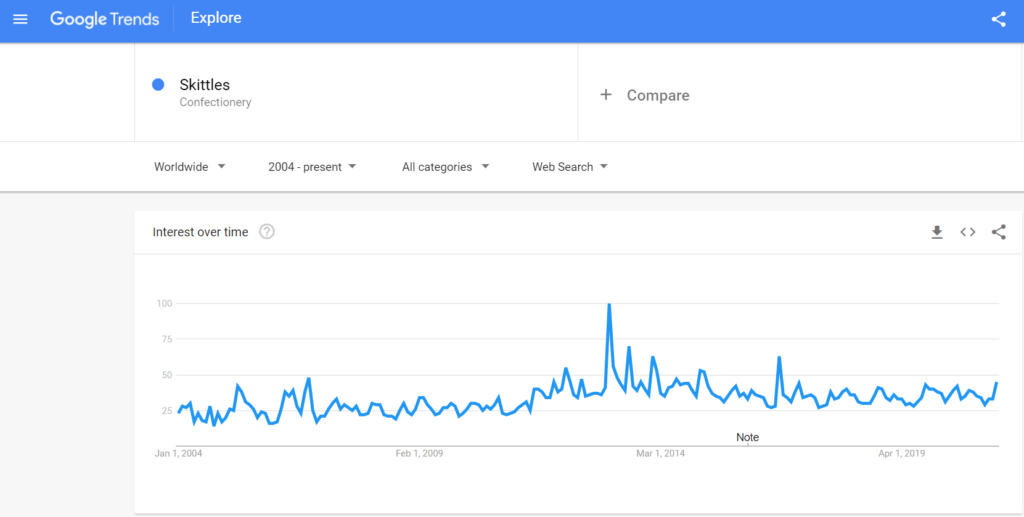 First produced in the year 1974 in Britain, skittles was introduced in The United States in 1979.
A relative of MnM's, Skittles is owned by Mars Incorporation and differs from their relative in their taste, texture, and color, albeit having the same shape.
Like every other famous confectionery, it also has a famous tagline," Taste the rainbow"; a tagline summarizing the candy in the best possible manner.
The last few decades have seen many people adopting a vegan lifestyle (a lifestyle with prohibits the use of any animal products and advocated for limiting exploitation of animals), with many more converting to it on a daily basis.
Hence, below we will analyze the famous confectionery so that our vegan audience can know if their favorite confectionery is in line with their beliefs or not.
Ingredients in skittles:
Below, we will be analyzing the major ingredients used in the product being sold in its two biggest markets i.e. The United Kingdom and The United States of America.
The United states Skittles ingredients are:-
Sugar

: it's a main ingredient in skittles that comes from cane. We'll shed light upon it in the next section.

Corn Syrup

: Corn starch makes this syrup and its purpose is to improve taste and prevent crystallization of sugar.

Hydrogenated kernel palm oil

: It's a plant-based oil, but it damages environment. We'll discuss about it in detail in the next section.

Citric Acid

: It comes from citrus fruits that adds flavor and preserves the ingredients.

Tapioca dextrin

: it's a starch extract from plants. Mostly, manufacturers use it as a adhesive for candy coating to improve flavor.

Modified corn starch

: It comes from corn, and their basic purpose is to add gumminess in the candies.

Natural and artificial flavors

: Since skittles flavors are related to fruits, it's no wonder that these come from plants. We'll discuss about this in the next section.

Artificial colors

: The colors found in Skittles are Red 40, Red lake 40, Yellow 5, Yellow lake 5, and Yellow 6 lake. Mostly, these come from petroleum, but vegans have some concerns about them, which we'll discuss in the next section.

Sodium citrate

: It acts as salt for citric acid to give a tart flavor.

Carnauba wax

: Copernicia prunifera, is a palm plant, and the ingredient comes from the wax of their leaves. They prevent the candies from melting and give their coating a shiny texture.
The United Kingdom Skittles ingredients are:-
Sugar, Glucose Syrup, Palm Fat, Acid Malic Acid, Dextrin, Modified Starch, Flavourings, Maltodextrin, Colours E162, E163, E160a, E170, E100, E153, E133, Acid Citric Acid, Acidity Regulator Trisodium Citrate, Glazing Agent Carnauba Wax, Emulsifier Lecithin
Are these ingredients really vegan?
As of 2021, most mainstream flavors of skittles are all now vegan friendly; flavors including the Skittles tropical, the skittles wild berry, and the skittles sours.
However, some limited addition skittles may contain animal-derived ingredients and it is best to first see the ingredient list before consuming the product.
While most of the ingredients mentioned above are vegan in nature and are not excluded by the vegan community, some of these limited edition products have a bit of controversy relating to them.
It is only right that we clear these confusions so that one may take a decision with full knowledge.
Sugar

:

It is possible that the cane sugar used in producing skittles involved bone char in their production process which may be a cause of concern for a person of the vegan community.

It is important to mention here that, the final product doesn't include any animal traces.
Palm oil & Palm Fat:
While palm oil or palm fat is not directly anti-vegan, the production processes used to produce it have negative effects on the environment.
Hence if you are a vegan that avoids palm oil due to its environmental hazards, you would want to avoid palm oil.
Palm oil or fat is vegan but not cruelty-free.
Artificial colors:
For United States
This is another controversial and confusing ingredient of skittles.
While the artificial colors used are vegan-based, this is not relevant as these colors are tested on animals from time to time and hence are something that the vegan community does not approve of.
The US variant skittles uses colors that are tested on animals. Check out the Official animal policy of Mars Inc.
The question of the manufacturers of said product do animal testing is also irrelevant as the food colors on a whole are tested worldwide on animals. Check out this report on RED 40.
For United Kingdom
The colors used in the UK variant of Skittles are natural and are vegan. Don't get confused by the fancy names.
Artificial flavors:
The vague ingredient description of artificial flavors makes it extremely difficult to deduce whether these flavors are vegan-friendly or not.
Hence it's recommended that one calls the customer helpline of the company if the description is vague or confusing.
As mentioned above, the product itself is vegan-based in its mainstream flavors, as has been claimed by the manufacturers.
It is important to mention here however that the company producing skittles participates in animal testing and has a myriad of other non-vegan products, which ultimately informs us that although skittles may be devoid of any animal cruelty, the company producing them is not.
So, Should you consume skittles?
Well, talking about Sugar in both USA and UK variants of skittles, I will give you a go-ahead as the sugar in itself does not include any animal product but it's just that the processing of cane sugar involves bone char for filtration and white coloring.
PETA also says not to go too hard on yourself as you are already doing so much by being vegan.
So, should you consume skittles?
I will advice not to.
Because both US and UK variants use ingredients derived from the Palm tree which is vegan but not cruelty-free.
Also, artificial colors in the USA variant are animal tested and the parent company is also involved in animal testing on its other products.
They say by themselves but in shady language. Check it out here.
Hence whether you can eat skittles or not is a decision up to you and you alone. You need to make a decision considering your beliefs and your views.
Vegan alternatives for skittles:
If you're a vegan who likes to make sure that what you're consuming is absolutely vegan friendly, we will provide you with some alternatives so you can hold onto your beliefs while also enjoying the taste of candy that you love:
100% vegan, gluten-free, and made out of real whole fruit, these rolls of flavors provide the taste of candy with the comfort of knowing that what you're consuming is in line with your beliefs.
Coming in four different flavors, these are perfect for lunchboxes, backpacks, and even as a healthy snack on the go.
YumEarth Organic Vegan Fruit Snacks:
As the name suggests, these vegan snacks are organic and vegan and contain no artificial flavors and dyes. Containing five snack packs in it, these snack packs are perfect for class parties, school snacks, and as a lunch snack.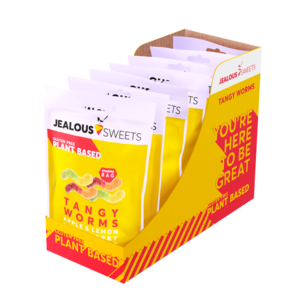 A 100% vegan-friendly confectionery, consisting of tasty candies with a jelly-like nature made out of real fruit juices, and as a result, these don't even contain any artificial flavors and are hence a great candy for a true vegan with a soft spot for candies.
If you like this article please share it with your friends or pin this image on Pinterest: