WHAT WILL YOU LEARN IN THIS ARTICLE?
Making Cocoa Butter by yourself.
Is Cocoa Butter Vegan?
Is Cocoa Butter Gluten-Free?
Other uses of Cocoa Butter as a natural cosmetic, for hair, and shaving.
How to Grow Cocoa From Seeds at home?
Make Vegan Chocolate using Cocoa Butter.
COCOA BUTTER AND VEGANISM
We, vegans, keep looking for answers as to whether any food or eatable is vegan & cruelty-free or not.
Should we eat that or not? If not then why not?
Have a look at this snippet from google trends. The rising trends show the need to satisfy the thirst for the answer to the question "Is Cocoa Butter Vegan?"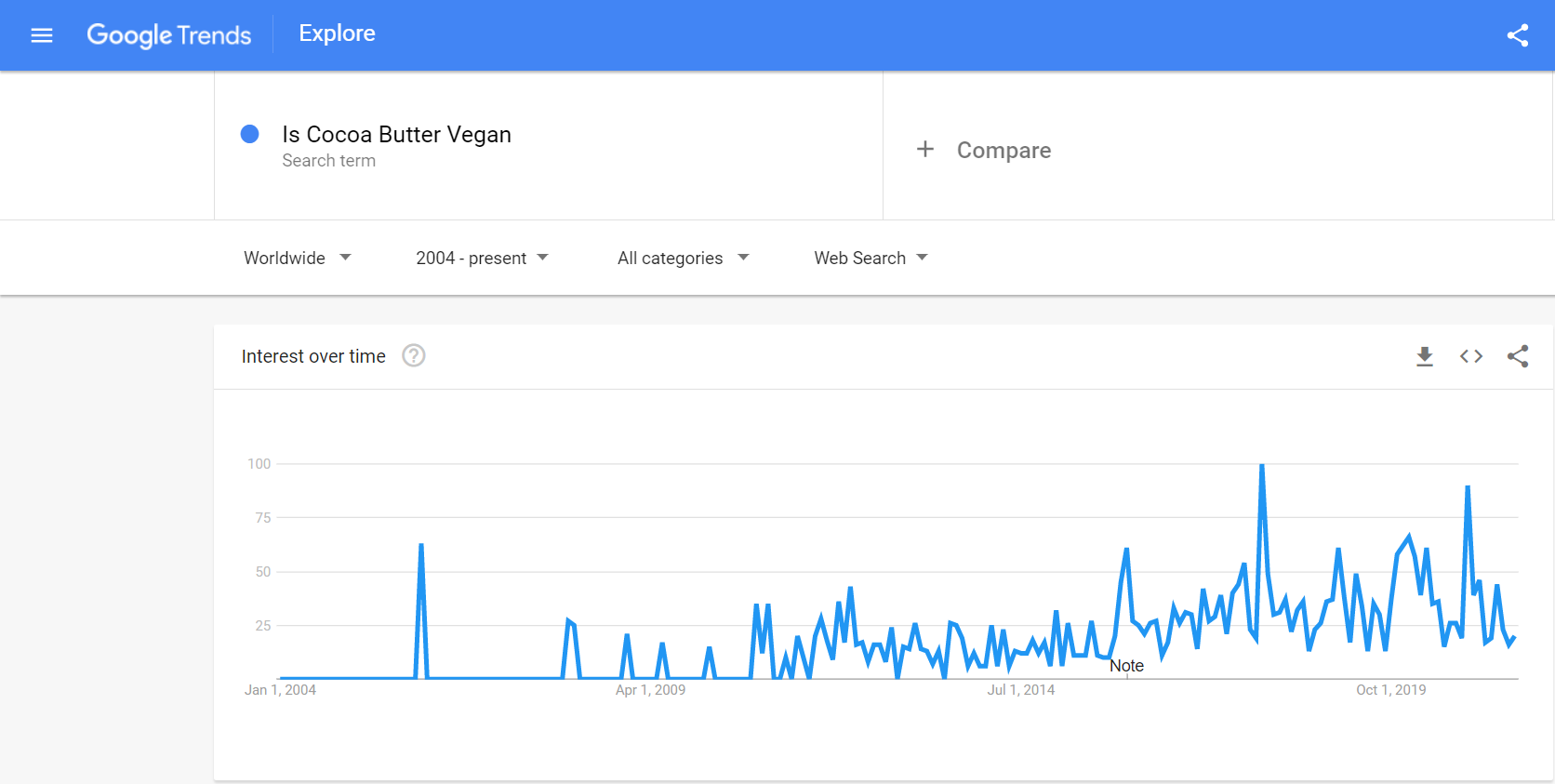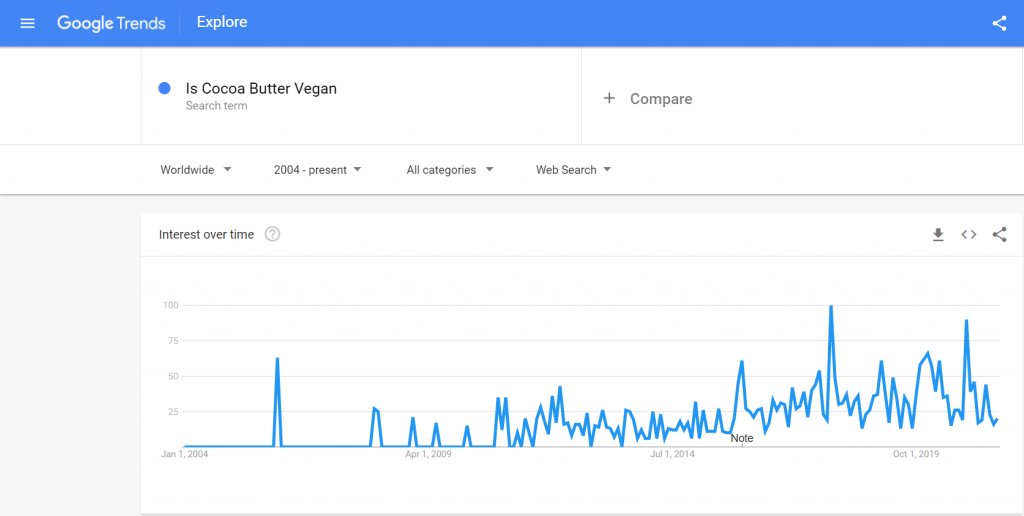 This article is just written to answer this question with well-researched facts, videos, and information.
Cocoa butter is a form of vegetable fat that is derived from cocoa beans. Creamy cocoa butter is extracted from the beans through a process of fermenting, drying, roasting, and then pressing.
The remaining portion is turned into cocoa powder.
Here is a 3-minute video to make Cocoa Butter by yourself
Well, is Cocoa butter vegan?
Cocoa butter, in general, is largely naturally free of eggs, dairy and honey amongst other potential animal-derived ingredients, making it suitable for vegans.
However, we have observed that many products made with cocoa butter do not tick all the boxes of what it means to be vegan.
Veganism is a lifestyle that encourages one to avoid all forms of animal exploitation and cruelty.
In this case, a vegan diet excludes meat, fish, eggs, dairy, and honey amongst an array of many other animal-derived ingredients.
Read also:
It is thus wise to check the ingredients of specific products.
When fully sourced from a plant it can thus be considered vegan in its natural form.
IS COCOA BUTTER ALWAYS VEGAN AND DAIRY-FREE?
Cocoa butter may sometimes be combined with ingredients like eggs, honey, or gelatin.
This is a common case with several chocolate bars, baked foods, and chocolate-padded candy bars.
More often than not, cocoa butter is combined with dairy to make milk or white chocolate.
In a few instances, dark chocolate is made by the combination of liquor, sugar, and cocoa butter though a number of dark chocolate brands do not use dairy in their process.
IS COCOA BUTTER GLUTEN-FREE?
Gluten is a group of proteins found in many grains, including wheat, barley, and rye.
Cocoa butter is naturally gluten-free. However, certain foods containing cocoa butter may sometimes include gluten.
A prime example would be cocoa butter-flavored chocolate bars made from gluten-containing flours, such as those made from wheat, barley, rye, spelled, and triticale.
WHAT ARE OTHER USES OF COCOA BUTTER?
Historically cocoa has been used in medicine for over 3000 years and counting.
Ancient Aztecs and Mayans, are documented to have even used it as a currency.
In recent times, researchers have discovered that compounds called phytochemicals in cocoa might help keep both your body and skin healthy.
COCOA BUTTER AS A NATURAL COSMETIC
Cocoa butter is easily one of the best natural cosmetics, which is a major advantage for vegans because one does not have to worry about artificial chemicals being absorbed by their skin.
It acts as a good moisturizer for the skin.
It has great properties that can heal skin and is highly recommended for application on stretch marks and scars.
Overall it is used to beautify and nourish the skin.
It can be used in similar ways to the aloe vera plant in the treatment of minor rashes.
However, care should be taken to use pure cocoa butter for any first aid treatments.
Added alcohol and fragrances can harm a burn.
We already know Cocoa Butter is good for your skin because it is high in vitamin E which fights wrinkles and dull striations, but did you know that it is also a great moisturizer for the hair?



COCOA BUTTER FOR HAIR
Cocoa Butter has healing properties that can repair damaged hair.
This is because of its high content of saturated fats derived from stearic and palmitic acids as well as minerals and vitamins inclusive of Vitamin E, concentrations of protein, potassium, calcium, magnesium, and copper.
Unrefined Cocoa Butter happens to work very well at deeply moisturizing the scalp.
As dandruff is caused by the dryness of the scalp being, this butter can work wonders to get rid of those flakes for good.
It also helps add moisture and nutrients to your hair strands which consequently helps banish any dull look your hair may be forming and rejuvenates it to looking shiny and healthy again.
COCOA BUTTER AS SHAVING CREAM
In order to prevent razor burns, rub you can use cocoa butter as a shaving cream, it will help soothe your skin.
This is also aided by the same moisturizing qualities it possesses that were mentioned in other segments of the article.
Apart from that, for the same reasons, it also makes for a good lip balm.
COCOA BUTTER AS A COOKING INGREDIENT
Cocoa butter is sometimes used to substitute regular butter in dessert dishes to add extra sweetness.
One of its biggest benefits is that it burns at very high temperatures which means that you can use it to cook corn without worrying too much about raising the flame.
HOW TO GROW COCOA FROM SEEDS?
MAKE VEGAN CHOCOLATE WITH COCOA BUTTER
Ingredients
3-5 Tbsp maple syrup (or PETA certified vegan sugar)
1 pinch sea salt
1 tsp vanilla extract ( this is optional)
1 cup finely chopped cocoa butter
1/2 cup unsweetened cocoa powder
Cacao nibs Instructions
Step 1
Start by arranging mini cupcake liners of your choice on a small baking sheet. Set them aside.
Step 2
Proceed to add 2 inches of water to a large saucepan and bring to a boil over moderate heat. Then set a medium glass or ceramic mixing bowl on top, making sure it's not touching the water, thereby creating a double boiler.
Step 3
Add finely chopped cocoa butter to the mixing bowl, and let it melt for about 2-3 minutes. Once it has melted, add the 3-5 Tbsp of maple syrup and use a whisk or wooden spoon to mix until fluid and thoroughly combined. Remove bowl and set on a flat surface.
Turn off stove-top heat and set saucepan aside.
Step 4
Go on and add cocoa powder, vanilla (optional), and sea salt (optional), and whisk to combine until there are no clumps. Taste and adjust flavor based on your discretion.
Final Step
Carefully pour the chocolate into your cupcake liners. Make sure to transfer the chocolate to the freezer or refrigerator to set – about 10 minutes. Feel free to consume straight from the freezer, refrigerator, or at room temperature.
Store any leftovers in a well-sealed container in the refrigerator for 1 week, or in the freezer for up to 1 month.
FINAL WORDS
Again in this article, we find out that a well-researched vegan does not have to go against their personal values to enjoy a delicious treat and Cocoa is in every way vegan.
Feel free to read more articles on this topic and to share with those who may benefit from them.