What you will learn in this article?
What is Soy Sauce?
Non-vegan Ingredients in Soy Sauce.
Make your own Soy Sauce at Home.
How Soy Sauce is made industrially?
How Soy Sauce Has Been Made in Japan for Over 220 Years?
Is Industrially made Soy Sauce Safe? Can it cause Cancer?
List of Vegan Soy Sauce Brands.
6 Easy Vegan Sauce Recipes
SOY SAUCE AND VEGANISM
The question "is soy sauce vegan" may seem an obvious yes. However what complicates it is that several years ago, Kikkoman, considered one of the most popular soy sauce producers, was accused and bashed for testing their products on animals by PETA.
This behavior reportedly occurred for over 15 years, and as a result, many vegans and vegetarians refused to purchase or consume Kikkoman products.
Thankfully, after an innumerable surge of protests and posts on social media, Kikkoman decided to end its animal testing in 2015.
So, the vegan community may still have trust issues with brands that pose as vegan and we intend to get into the broader answer.
This snippet from google trends shows us the trust issues among vegans that made them ask continuously "Is Soy Sauce Vegan?"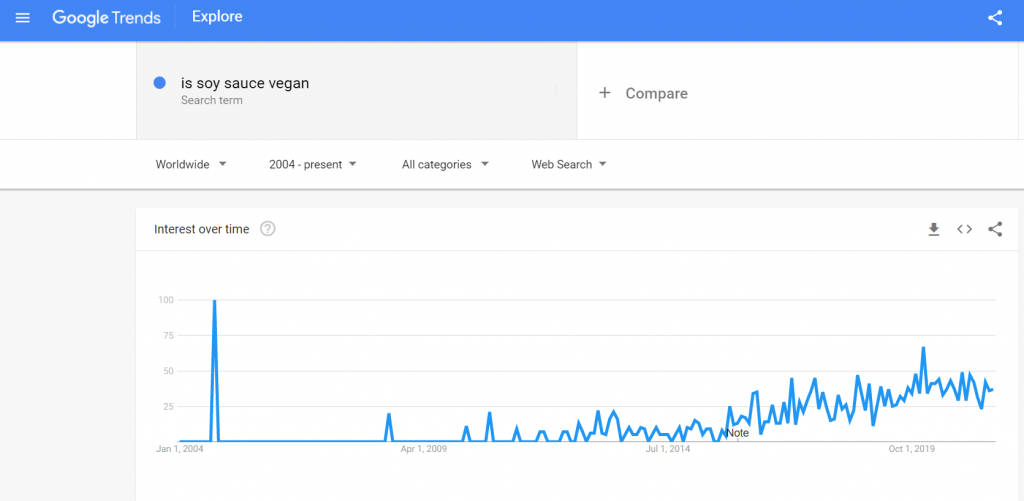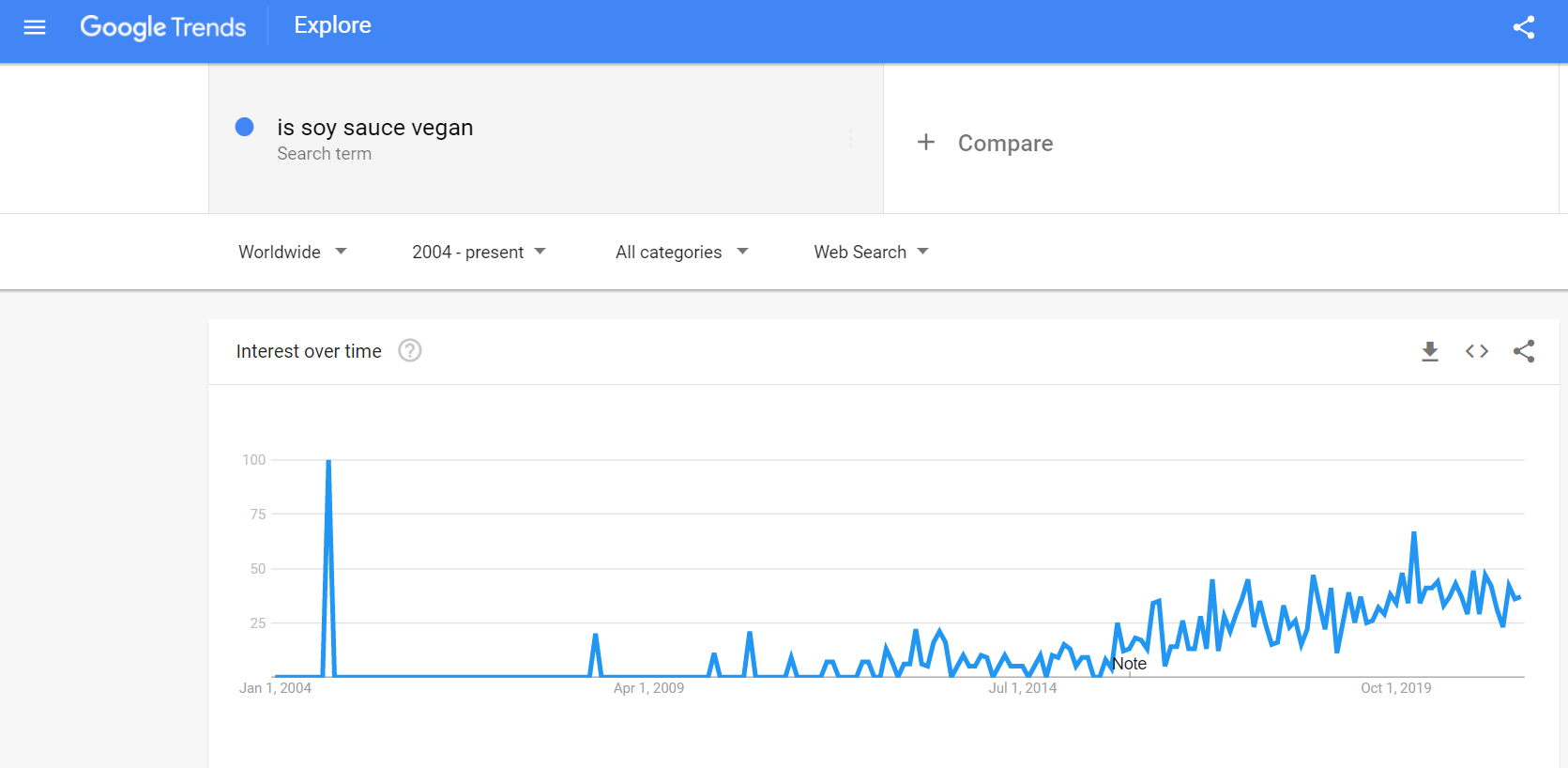 Like every food we discuss on the website, we need to discuss the general composition of soy sauce. Of course, it may differ across specific brands, but this will give us a template.
WHAT IS SOY SAUCE?
Largely documented to have originated from a Chinese product called "Chiang", soy sauce is a salty liquid condiment traditionally produced by fermenting a mixture of soybeans, wheat, salt using agents like mold or yeast as catalysts.
Like many exotic ingredients, it is historically stated to have spread to Europe in the 1600s through Dutch and Japanese trade.
It may be interesting to note that "soy" actually is derived from the Japanese word for soy sauce, "shoyu." In fact, the soybean itself was named soy sauce.
Of course, regional varieties of soy sauce will tend to contain variable amounts of basic ingredients. Thus every recipe will consequently have different colors and flavors.
Thus the short answer is that soy sauce is largely expected to be vegan.
ARE THERE ANY NON-VEGAN INGREDIENTS IN SOY SAUCE?
We can agree that the best soy sauce is one that adheres to traditional production methods of fermentation and includes just the basic ingredients of soybeans, salt, wheat (or other grains), and yeast or mould cultures as aforementioned.
However, we do have some mass-produced soy sauce that includes various coloring agents and preservatives that may not be immediately recognizable to most food consumers.
Vegans should be wary of the following
Some Flavour Enhancers
There are some soy sauces, for instance. Amoy Light Soy Sauce, Amoy Reduced Salt Soy Sauce and Lee Kum Kee Sweet Soy Sauce contain "flavor enhancers" E631 and E627.
The former is often made from pigs or fish, though it can also be made from tapioca starch. The latter is often made from sardines.
It is thus worth checking for this when making a purchasing decision.
CAN YOU MAKE YOUR OWN SOY SAUCE AT HOME?
Let's suppose you want to make your own soy sauce at home using the traditional method.
As aforementioned above the soy sauce will require a mixture of soybeans, roasted wheat, mold, and saltwater, which is aged from five to eight months.
The resulting mash is then pressed, and the soy sauce liquid is pasteurized and bottled.
We begin by soaking the soybeans in water. We also roast and crushing the wheat.
The two are then mixed with a culturing mold, most commonly Aspergillus, after which we can wait for two to three days for them to develop.
In the next phase, salt and water are added, and the entire mixture is left in a fermenting tank for five to eight months, though some types may have variable times depending on the climate of the region you are in.
The magic part of the fermentation process is when enzymes from the mold act on the soy and wheat proteins, gradually breaking them down into amino acids.
The starches are transformed into simple sugars and then fermented to alcohol and lactic acid.
If you are patient enough for the aging process to complete, you may layout the mixture out onto a cloth then press it to release the liquid.
The liquid is then carefully pasteurized to kill any bacteria. Finally, it may be bottled.
High-quality soy sauce uses only natural fermentation. These varieties are often labeled "naturally brewed." The ingredients list will usually only contain water, wheat, soy, and salt.
HOW IS SOY SAUCE MADE INDUSTRIALLY?
For mass production on the industrial side, manufacturers have had to deploy faster mechanisms to create it in a process known as acid hydrolysis, which can produce soy sauce in a few days as opposed to several months.
Soybeans in this process are heated to 176°F (80°C) and mixed with hydrochloric acid. This process breaks down the proteins in the soybeans and wheat.
Some food critics have opinions that it becomes less aromatic and tasty since many substances produced during traditional fermentation are missing. Therefore, extra color, flavor, and salt may be added.
Furthermore, there have been concerns raised that this process may produce carcinogens?
HOW SOY SAUCE HAS BEEN MADE IN JAPAN FOR OVER 220 YEARS?
IS INDUSTRIALLY PRODUCED SOY SAUCE SAFE

?
As vegans, we want to make sure that we are always wary of what we consume and digest.
Given the concerns surrounding the possibility of carcinogens being produced through the hydrolysis of soy protein, we want to establish facts.
CAN SOY SAUCE CAUSE CANCER?
According to the American Cancer Society, many of the misunderstandings we have on whether or not soy is safe emerges from the simple fact that studies in human subjects may show contrasting results with those in animals.
In several animal studies, rodents that were exposed to high doses of compounds found in soy called isoflavones (which is a carcinogen) showed an increased risk of breast cancer.
This is because the isoflavones in soy are thought to behave like estrogen in the body, and increased estrogen has been linked to certain types of breast cancer.
However rodents process soy differently from people, and similar outcomes have not been observed in human beings.
Another variable is that doses of isoflavones in animal studies are much higher than in humans.
In fact, in human studies, the estrogen effects of soy seem to either have no effect at all or to reduce breast cancer risk (especially in Asian countries, where lifelong intake is higher than in the US).
It is suspected that this may be because the isoflavones can actually block the more potent natural estrogens in the blood.
LIST OF POPULAR VEGAN SOY SAUCE BRANDS
6 EASY VEGAN SAUCE RECIPES
FINAL WORDS
Soy Sauce is fortunately vegan, though the above information will equip you when making conscious buying decisions.
Please feel free to continue looking at other topics on the website that talk about different foods and do not hesitate to share the post with people who may benefit from it.