In this article, we set out to answer comprehensively the question, "Is hummus vegan?"
Hummus is a popular spread within the vegan community and as such, it deserves to stand up to question.
It is important for every vegan to have a good research basis on why they think a product is vegan or not. Even for foods that may seem obvious.
We will gladly explore the million-dollar question, "Is hummus vegan?" by looking into what hummus is made out of and its process.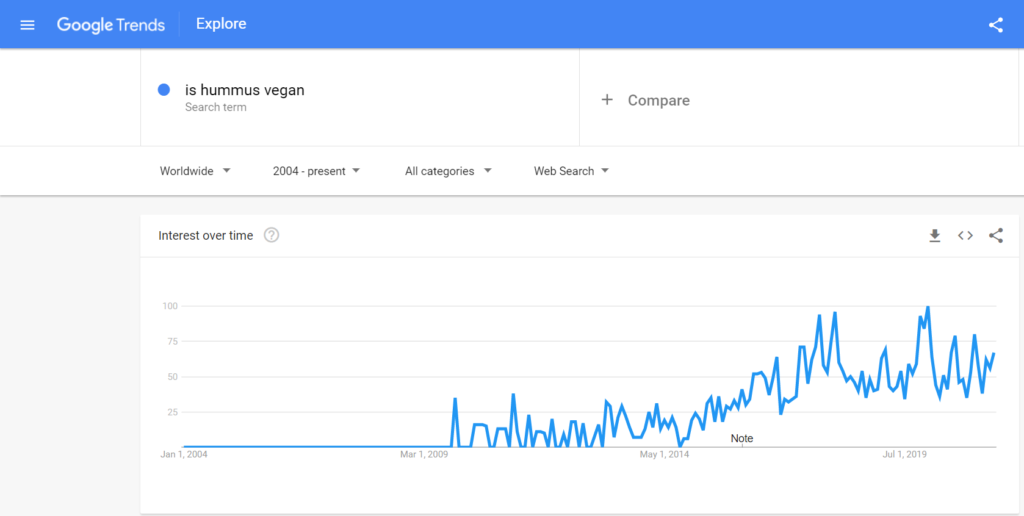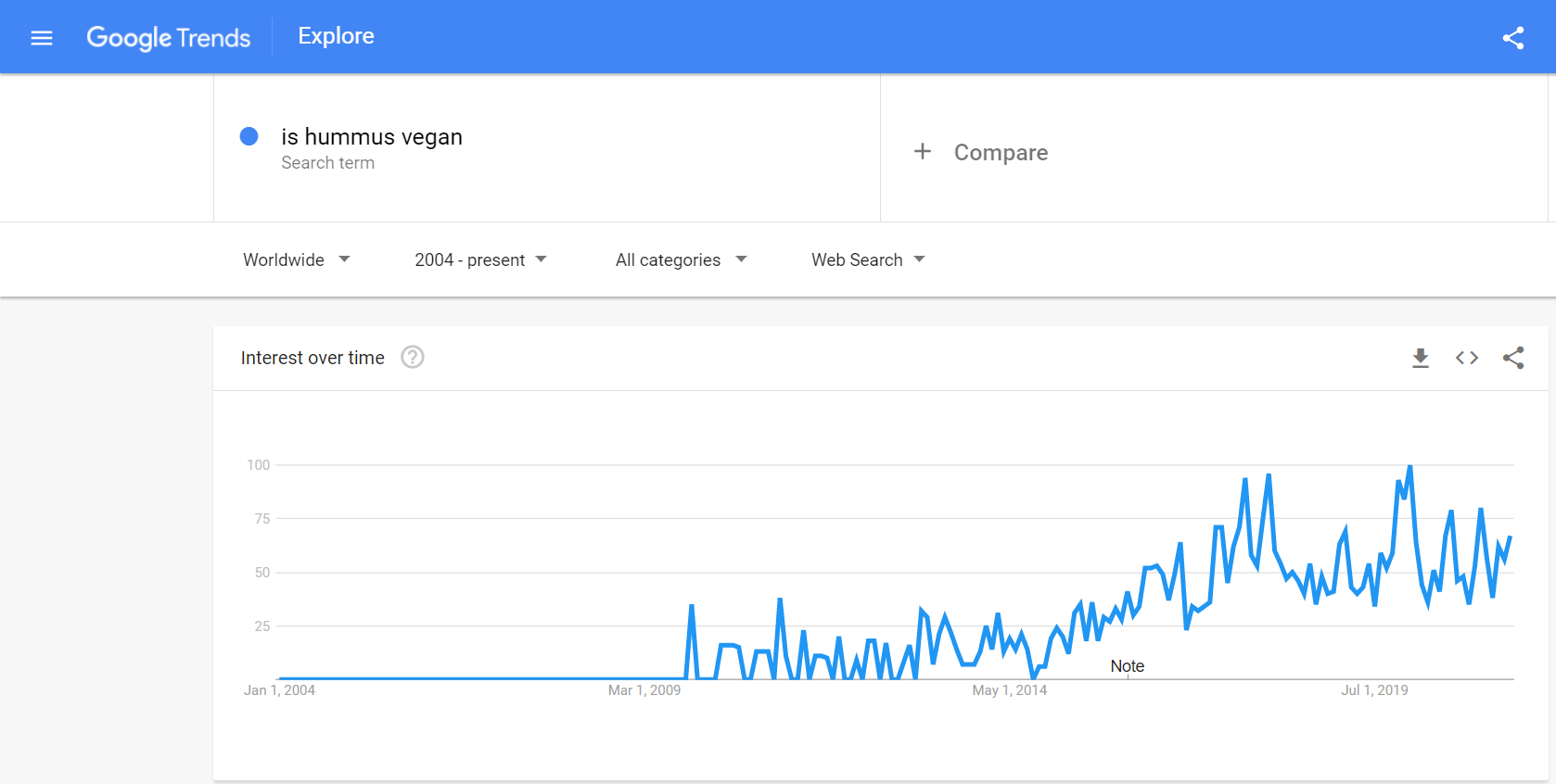 Just to get the million-dollar question out of the way. Yes, hummus is vegan most of the time.
WHAT CAN MAKE HUMMUS NON-VEGAN?
The core ingredients of hummus are totally vegan, there is no doubt about that.
But, there can be instances where non-vegan ingredients are used for hummus making.
Ingredients like honey, dairy products such as cheese and milk can be used by a creative chef hoping onto experimenting with its dishes.
Some people even think Xanthan Gum added to hummus to make its texture thicker is non-vegan. But we don't think that it is the complete story. Check out our article on Xanthan Gum.
5 RECIPES TO MAKE VEGAN HUMMUS
IS CHOCOLATE HUMMUS VEGAN?
The use of Chocolate can make hummus non-vegan. Chocolate may contain milk and milk is not considered vegan.
To learn more about why chocolate can be non-vegan read this article.
However dark chocolates can be vegan as more cocoa content is present but even some of the brands contain dairy making them unfit for vegans.
WHAT IS HUMMUS? INGREDIENTS USED TO MAKE HUMMUS.
Hummus is a vegan paste that comes from blending cooked garbanzo beans (chick-peas) with salt, garlic, tahini lemon juice, and olive oil.
The tahini, which is made from sesame seeds, is an optional ingredient and the olive oil is sometimes replaced with water. Usually, the olive oil will help to thin it.
Different types of hummus with different recipes exist, thus the above is the classic example of humus.
There are however alternative recipes where tomatoes and roasted red peppers may be used. For the most part, these recipes are vegan as well.
A good variety of flavors and ingredients may be added to classic hummus. For example, avocado, black beans, roasted red peppers, and pesto among others can fortify the base mix. It is really a matter of the chef's taste.
The overall thickness of the hummus may vary in terms of consistency based on personal preference or the proportions of ingredients used.
As we can verify above all these ingredients are vegan.
WHAT CAN VEGAN HUMMUS BE USED FOR?
There are many ways to enjoy your hummus and they are not limited to the ones listed below.
However, the motive of listing them below is to open up your creativity to the number of vegan recipes and ideas you can implement with them.
Hummus Pizza
Hummus can be a good base to put on pizza dough so one can sprinkle over their favorite vegan pizza toppings on top.
Salad Dressing
Humus is a good alternative for regular mayonnaise. You can chop up vegetables and legumes to make them blend well with it.
Soup Additive
To add a bit of thickness and creaminess to your soup, you can add hummus and stir till you get the consistency you prefer.
Tofu Scramble
You will enjoy dashing a spoon of hummus into a tofu scramble prior to cooking.
WHICH HUMMUS BRANDS ARE VEGAN?
Wild Garden Hummus dip likes to keep it spicy and traditional. You can add it to your vegan shopping cart if that's what you favor when it comes to flavor.
It also is recommended for its good shelf life. It of course made it to this list because it contains no artificial or non-vegan preservatives or additives.
Roasted Garlic, Traditional, Red Pepper, and Sun-Dried Tomato are the flavors it generally comes in.
As you can tell, they like to keep everything spicy.
They also have an option of you getting the product in small squeezable tubes and these can be purchased in bulk for your convenience, perhaps if you need to carry some of it to the workplace.
Ingredients: Chickpeas, Water, Citric Acid, Tahini, Salt, Other Natural Spices,
This spicy avocado hummus is not only vegan but is highly nutritious with protein of humus and Omega-3 fatty acids which are known to be good for memory retention.
It also has a wide range of fats that can be found in the regular one.
Ingredients include Water, Garbanzo Beans, Tahini (Sesame Seeds), Avocado Puree, Extra Virgin Olive Oil, Cumin Green Jalapenos, Sea Salt, Black Pepper Citric Acid, Garlic Powder, Cayenne Pepper,
It is 100% organic.
Made with locally outsourced ingredients, this gluten-free and non-GMO product deserves to be on your vegan shopping list. Revered for its homemade natural flavor, the hummus has very few ingredients. It does not contain extra preservatives and additives.

Its flavors include Plain (Original), Red Pepper (roasted), Black Bean Hummus, Jalapeno (roasted), Smoked Tomato and Basil, Garlic (roasted), and Kalamata Olive.
It is certainly a 100% organic product.
Ingredients: Chickpeas, Tahini, Olive Oil, Lemon Juice, Salt, Citric Acid and Garlic, (also various flavors based on which flavor is being used)
This one comes as a pack that allows the consumer to do it themselves. One basically just adds salt, water, lemon juice, and olive oil in the recommended proportions to make fresh hummus.
Many people have also recommended it for being very tasty. You rest assured it's 100% vegan.
Ingredients: Organic chickpea flour, organic onion powder, organic toasted sesame flour sea salt, organic garlic powder, organic parsley, organic paprika, organic ground black pepper
This healthy vegan hummus is available in seven flavors, namely; Curry Tumeric, Green Olives, Sun-Dried Tomato, Beets, Cayenne, and Chipotle.
The company has a fascinating brand story. Legend has it, a health café ended up with this healthy hummus dip.
Add that to the fact that they have won America's Best Food Awards at least six times. Isn't that majestic?
That's another win for veganism.
The company makes use of organic additives and everything is kept organic. The product must be refrigerated to preserve freshness.

Ingredients: Organic Garbanzo Beans, Flaxseed, Safflower Oil, Olive Oil, Garlic, Salt, Milled Cumin, Lemon Juice

The above ingredients are basic, they may have slight differences according to the various flours.
As the name suggests, you have the privilege to stir this one yourself. It has a top layer and a bottom layer.
The tahini and spices are on the top layer whilst the bottom layer has the chickpea puree. It has quite a number of ingredients.
Classic, garlic and Cumin, Lemon and Garlic, and Habanero are the four flavors you can find it in.
Ingredients: Organic Chickpeas, Water, Sea Salt, Tahini, Citric Acid, Cumin, Baking Soda, Organic Garlic
Ingredients may be modified based on which flavor one is consuming.
In conclusion
As has been demonstrated in this article, hummus is an asset for vegan recipes with many functions.
It's a must-have in the kitchen as it complements many other ingredients to make the vegan lifestyle easier for both beginners on this path and those who have lived the life for years.
You are encouraged to keep browsing through other articles on our website and also to share the articles with friends, colleagues, and family.
Feel free to share it on Pinterest!