Introduction to Vegan Work Boots
What if I tell you that now you can get vegan boots for your work as well?
Yes, you heard that right. Now, if you are a professional and you need boots to travel for your work, you're at the right place.
We'll tell you about the five best vegan work boots that are durable and suitable for your work.
Boot manufacturers use synthetic and plant-based material to make vegan boots, and they have cruelty-free textile.
For people who are vegan and use only vegan-friendly products, these boots are best for them.
So, if you're someone who's a vegan, you might need such boots for various adventures in your life.
Going to work is one of the major aspects of one's life, and you must look professional when you go to your work.
Read also: Cruelty-free 5 Best Vegan Winter Boots in 2022 to keep your winters warm.
For this purpose, you might need some work boots to display your professionalism.
However, if you're vegan, it might be difficult to find specifically vegan boots.
Fortunately, we have your back, and we'll tell you about the five best vegan boots we selected.
Top five vegan work boots
Gender: Men
Features: Anti-slip and rubber sole, Toe and Heel construction, anti-fatigue technology, water and oil resistance.
It's a professional-looking work boot that incorporates 100% synthetic material and has a rubber sole. Its amazing features are what set it apart.
Pros:
It has a thick rubber sole that protects your feet from sharp items. Moreover, it protects you from slipping on oily surfaces because of its anti-slip technology.
The shoe also has a soft toe to protect your feet from sharp items.
You can wear them easily because the zipper ensures easy to slip in/out.
In addition to the high traction sole, the boots have a steel shank which ensures that you can walk easily on different terrains.
Cons:
Few people complain about its insole. They have discomfort with walking in them due to the insole.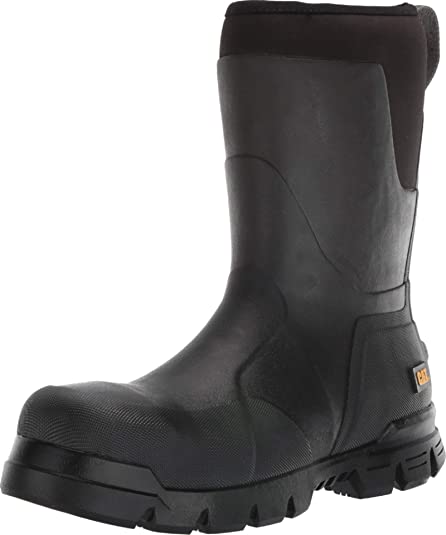 Gender: Unisex
Features: slip and oil resistant, comfortable soles, flexible outsole, electric hazard protection, steel toe.
It's a multifunctional show that comes with an array of spectacular features. It's 100% vegan and has a rubber sole.
Pros:
The resistant features protect the customers from falling on slippery surfaces.
The midsole guarantees comfort while walking and absorbing the shock effects. Moreover, the shoe has the specific insole of CAT, which provides comfort at all times.
The outsole provides stability, and it's flexible because it moves in the foot direction.
Another important feature is that it protects against electrical hazards. If there are open circuits of 600 volts, the boots will protect the customer from the current effect.
Since they have a steel toe, they protect them from compression or falling objects.
Cons:
They may be costly, but the features they provide stand out from the rest.
Some people may have difficulty in size. However, you can always order large sizes for your feet.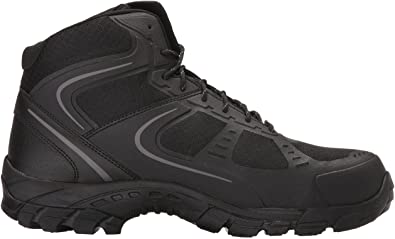 Gender: Male
Features: electrical protection, reinforced footbed, FAST DRY TECHNOLOGY, chemical resistance.
Carhartt has been a dominant brand when it comes to manufacturing work/steel toe boots. CMH4251 is a vegan steel toe boot with 100% synthetic material and a rubber sole.
Pros:
The FAST DRY technology helps to keep your feet dry and cool.
Footbeds are constructed using 3D foot scans that ensure a perfect fit for the foot. Also, the top material guarantees extra grip, which reduces the chances of falling.
It has a technology that protects electrical open circuits of up to 18000 volts.
This boot provides much resistance, including oil, chemical, abrasion, and heat. All of this together makes it a comfortable and safe boot.
The soles are carefully engineered. The midsoles ensure proper cushioning, and the outsole provides the greatest traction.
Cons:
Several customers complain that the steel toe is not comfortable.
They may be uncomfortable, and customers often complain that the footbed is harsh. Many have to purchase insoles separately.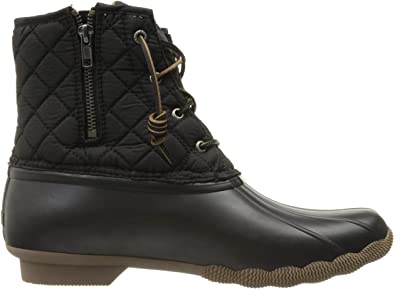 Gender: Women
Features: versatile, waterproof, non-marking rubber outsole.
These are versatile and fashionable boots for women. Females can wear them at work, and they have some resistance for protection. These pairs are vegan because they are made with 100% cotton, and their sole is of rubber.
Pros:
They are waterproof and keep your foot dry and comfortable.
It has a wide boot opening that allows you to wear them easily.
The non-marking outsole ensures excellent traction for various terrains.
Sperry's insole is comfortable that provides excellent cushioning and support.
Cons:
Customers complain about size issues.
Customers often complain that they lose their waterproof ability after some time and start to leak.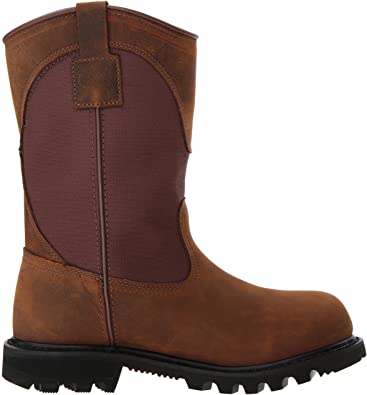 Gender: Women
Features: Electrical hazard, Waterproof, comfortable insole.
It's another exclusive boot by Carhartt that has Cordura nylon upper, rubber sole, and is a mix of leather and textile. Therefore, it classifies as a vegan.
Pros:
It has a wide boot opening (13.25″) that allows for easy slip-in/out.
It has a soft toe that can protect accidental interaction with circuits of 18,000 volts.
These boots have a comfortable foam insole that provides comfort. The insole also has a cushioning quality that reduces fatigue on the feet.
They are also waterproof, and it has a specific membrane which keeps your feet dry while improving air circulation.
Cons:
They may not be vegan because they have an element of leather as well. However, much of the boot material comprises vegan-friendly material.
Buying Guides for Vegan Work Boots
It's no wonder that these boots are really difficult to find, especially the vegan ones. But, the following are the factors you should look out for when purchasing one:
Make sure to check out the prices. If you're short on budget, it's better to go for MORENDL boots.
You should probably look for the material. Ask the representative about the material of the boot and check whether it's vegan-friendly or not.
These boots are specially for work purposes. You should probably keep in mind the various resistance they provide. For example, if you're looking for waterproof, slip, and chemical-resistant boots, you should choose one that offers such features.
If you like this article or have any doubts or suggestions feel free to use the comment box or use the contact us option.
You might also like:
Cruelty-Free 5 Best Vegan Winter Boots In 2022
The 15 Best Vegan Hiking Boots To Buy In 2022