Introduction to vegan Chelsea boots:
There are only a few fashion staples in the world that can be owned and used almost everywhere on the planet; Chelsea boots are one of them.
Chelsea boots are essentially close-fitting ankle boots famous for their versatility and simplicity. These two characters of the boot have made them a favorite for the generation of men and women.
Its rounded toes and low heel are crucial to its versatility. Its elasticated side gives it the ease and comfort we all know and love. Made famous by the legendary Beatles and the rolling stones in the '60s and '70s, Chelsea boots are an automatic fit to almost every wardrobe in the world.
This blog post will involve us discussing the best five vegan Chelsea boots (three for men and two for women), all of which capture and possess the boots' soul, i.e., simplicity, timeless fashion, and versatility.
While fashion is important, some beliefs are also important, and hence, with these plant-based boots, we find a balance between beliefs.
We discuss a range of products that provide us with a beautiful pair of fashion staples while also making sure it didn't involve and cruelty in its manufacture. Below, we will be analyzing the five best vegan Chelsea boots for you right now!
Buying guide for Vegan Chelsea boots:
The first and foremost thing to remember is to ensure that the boot is vegan, i.e., plant-based and made through a cruelty-free production process.
If cost is a factor that the purchase needs to be in line with, then the Amazon Essentials Men's Chelsea Boot & Deer Stags Men's Rockland Chelsea Boot for men and Dunes Women's Dalya Chelsea Boot for women might be a product of interest. I have described pros and cons of each of them in the latter part of this article.
Something to focus on during purchase is the size and fitting. There are different size and fittings for every manufacturer, and it is essential that you first examine the size scale and fitting of the product before ordering it.
When purchasing Chelsea boots, it is important to keep in mind the motive behind acquiring a particular product. If, for example, you want a boot that goes well with your office clothes and also with your casual clothes, the deer stags Rockland Chelsea boot for men might be of interest to you.
3 best vegan Chelsea boots For Men: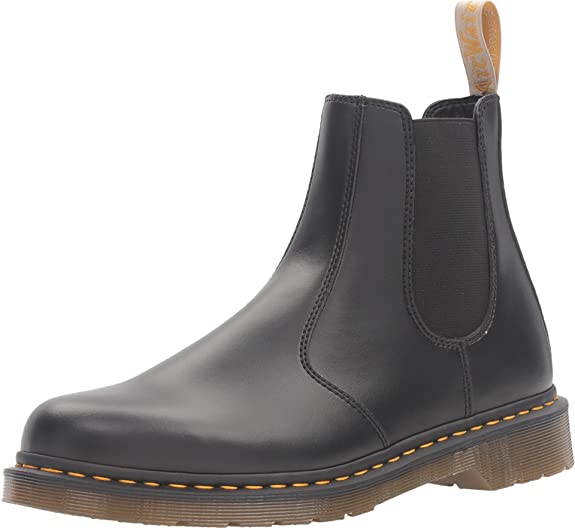 Gender: Male
Cost:$102.10 – $202.26 (Check the Latest Prices on Amazon)
Color: Black and cherry
Features: 100% synthetic slip-resistant boots, with a synthetic sole
A thing to behold; our first Chelsea boot of the list is a waterproof one with a smooth and shiny surface
Pros:
A 100% vegan boot, made out of synthetic materials
Waterproof boot with an air-cushioned synthetic sole
Slip-resistant boots, providing good grip and traction and minimising the danger of slipping
Easy to clean; With just simple cloth and some polish, the shoe regains its shine.
A Chelsea styled boot to the core, providing style with comfort
Cons:
Rare complains about the soles coming apart of the shoe.
Rare complains about size difficulties, i.e. people having difficulties putting it on due to narrow opening.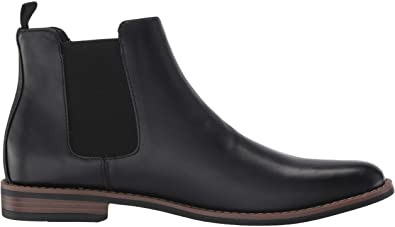 Gender: Male
Cost: $39.00 (Check the Latest Prices on Amazon)
Color: Black and Cognac
Features: 100% Casual synthetic boot, with a rubber sole
Versatile boots with great comfort, style, and for little money
Pros:
100% vegan boot, made entirely out of synthetic materials
Shaft measures approximately ankle-high from arch, which gives the style of a typical Chelsea boot
Highly affordable product of high quality
It comes in two beautiful colors
Cons:
Rare complains about the elastic gore coming off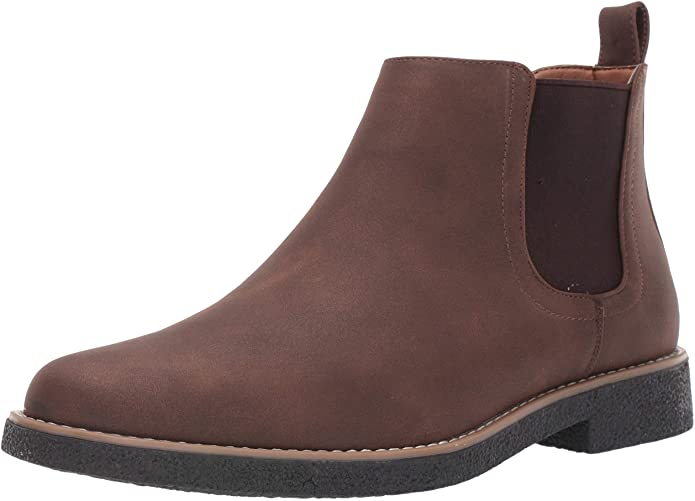 Gender: Male
Cost:$44.81 (Check the Latest Prices on Amazon)
Color: Dark brown, dark luggage, black, and redwood
Features: This shoe has a synthetic leather upper. It features a contrasting midsole stitch, a pull-tab for easy on/off, and a durable TPR sole. All man-made materials.
This classic Chelsea style gets an update with contrast stitching and a crepe-like grippy bottom, great for formal and casual situations.
Pros:
Available in four different colors and a myriad of sizes
A versatile and sophisticated boot, proving a unique style
Comfortable and durability; A grippy outsole the durability while the soft insoles provide the comfort
Affordable boots with a very consumer-friendly price
Great for both formal and casual occasions
Cons:
Some concerns about the durability of the boot
Some complaints about it having just one loop, which makes it difficult to get them on.
2 best vegan Chelsea boots For women: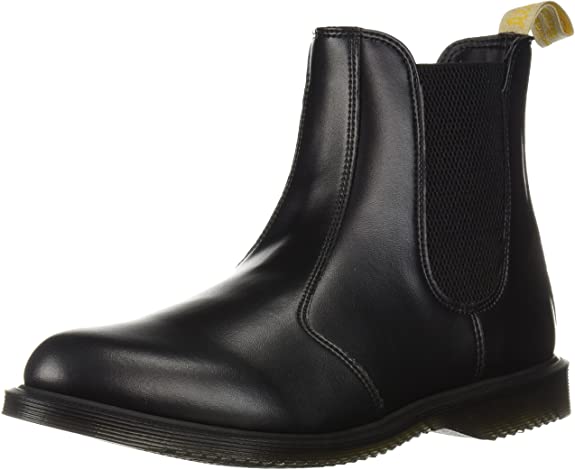 Gender: Female
Cost:$202.26 (Check the Latest Prices on Amazon)
Color: Cherry and black
Features: An airway back pull loop and overall god dimensions
Nothing short of a marvel; a product that captures style, endurance, and comfort
Pros:
It comes in two beautiful colors
The AirWack back pull loop gives it a distinguishing look from other Chelsea boots
100% vegan, made entirely out of synthetic material
Easy to clean; requires only a cloth and some polish to regain shine
Cons:
Rare complains about the boot not having a full insole lining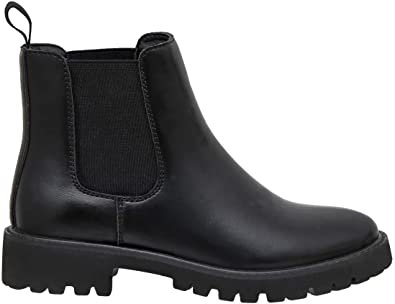 Gender: Female
Cost:$39.99 (Check the Latest Prices on Amazon)
Color: Black
Features: A boot that has a balance between comfort and durability, with a hint of absolute beauty and a reasonable price that is affordable for most consumers
Pros:
Made out of 100% synthetic vegan leather
The long-lasting outsole, which makes it durable for use
Soft inner lining, providing comfort
Back pull tab, for allowing ease in putting the shoe on and off
Beautiful vegan leather texture
Cons:
Only available in one color and few sizes
Very rare complains about the comfort of the boot
You might also like:
The Best Top 5 Vegan Work Boots In 2022
Cruelty-Free 5 Best Vegan Winter Boots In 2022