WHAT WILL YOU READ IN THIS ARTICLE?
What is Glycerin?
Is Glycerin Vegan?
Vegan and Non-vegan Glycerin sources.
The one ingredient that vegans should be careful of!
How to tell whether Glycerin is vegan or not?
Uses and benefits of Glycerin.
Is Glycerin safe?
How to make your skin glow using glycerin?
WHAT IS GLYCERIN?
Some allege glycerin is the most frequently used ingredient after water.
Glycerin is a non-toxic thick gelatinous, odorless liquid, which dissolves in water completely.
It absorbs humidity in the air and is thus considered hygroscopic. Other than that it can also be known as glycol and glycerol.
Its hygroscopic nature makes it an ingredient of choice when added to foods, particularly to preserve the moistness in baked products and cosmetics.
The same reason also makes it suitable for storage of fruits, a base for lotions, a component of some printing inks, making cakes and candles among a long list of uses.
IS GLYCERIN VEGAN?
As glycerin is a quite popular item, so vegans have started raising questions regarding its veganity from the past few years. Here is a google trend snippet to prove my point: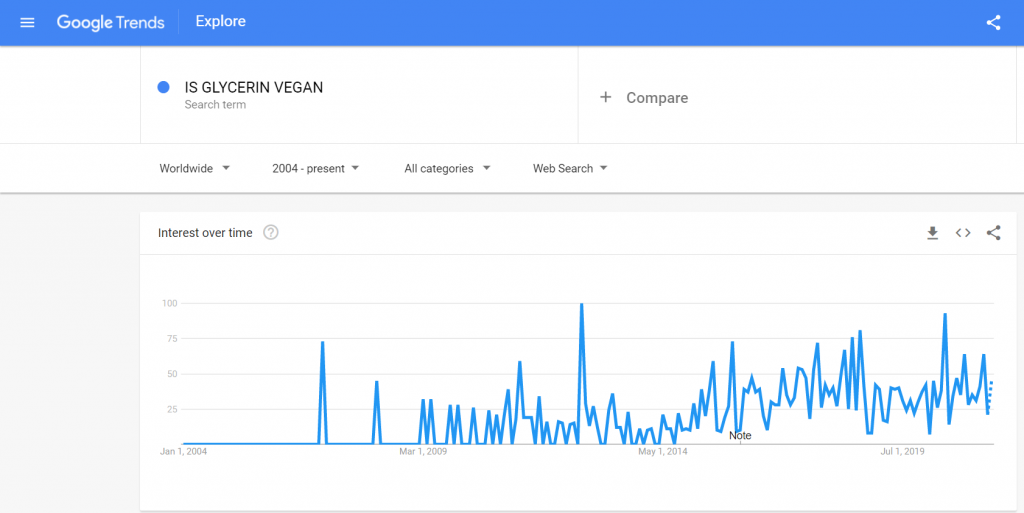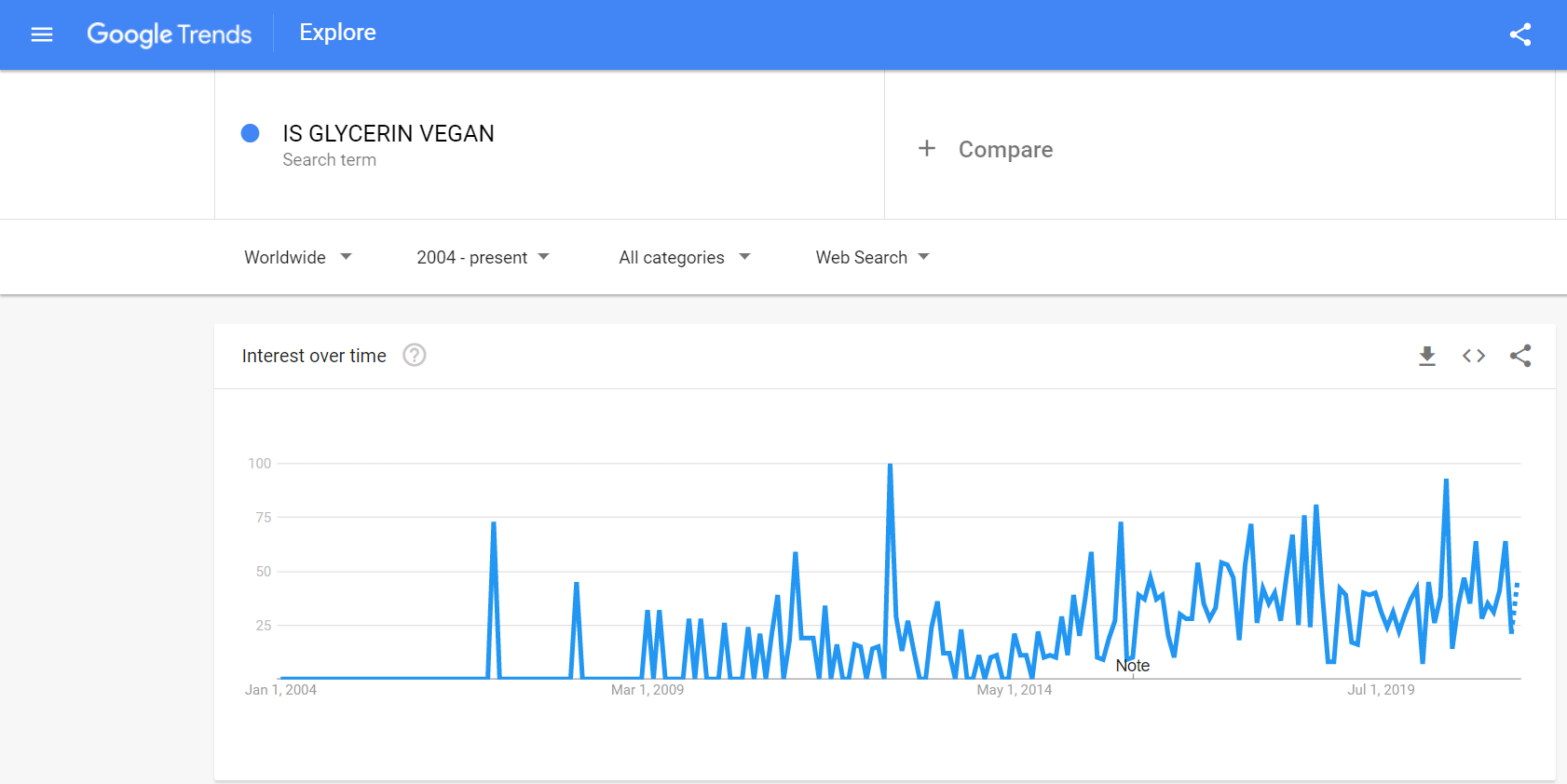 Glycerin is both vegan and non-vegan because there is glycerin that comes from plants and another version is extracted from animal fat.
Let us talk about both.
NON VEGAN GLYCERIN FROM ANIMAL FAT
Tallow from animal fat (like from pork) is mixed with water and is heated over medium to low temperature till it thickens.
The blend is then allowed to cool overnight in the refrigerator.
The resultant hardened mixture is then boiled to eliminate any excess water or filtered to remove any impurities.
It may sometimes be used as it is in soaps, lotions, or hair products.
This is why it is mandatory for a vegan to pay attention to the labels and make sure your glycerin is plant-based.
VEGAN GLYCERIN MADE FROM VEGETABLE OIL
Thankfully, discovered more than two hundred years ago by accidentally heating a mixture of olive oil and lead monoxide, vegetable glycerin is made from plant oils.
It is created by heating vegetable fats that are high in triglyceride composition.
These include but are not limited to coconut, soy, and palm oils. They are heated under pressure or with a strong alkali, such as lye.
This causes the glycerin to break away from the fatty acids and fuse with water to create an odor-free sweet, syrup.
THE ONE INGREDIENT THAT VEGANS SHOULD BE CAREFUL ABOUT!
Even though Glycerin can be derived from vegetable oils but vegans should look out for the glycerin made from palm oil.
Palm oil is a hot topic among vegans.
The contentious reason that makes palm oil so controversial even after being a plant-based oil is that its products have a spillover impact over nature which remains disguised.
The production of palm oil causes a lot of deforestation and animal habitat loss in countries like Indonesia.
Palm oil production is not environment friendly and impacts biodiversity.
HOW TO TELL WHETHER GLYCERIN IS VEGAN OR NOT?
Even though we have stated how animal fat-based glycerin and vegetable glycerin are usually hard to tell apart.
A lot of hair care and cosmetic product labels tend to specify the source from which glycerin is derived and more often it is thankfully vegetable glycerin.
Logically producers tend to opt for mechanisms that reduce their production costs.
The good news is vegetable glycerin is the cheapest and the most readily available to manufacturers.
With that said, in most cases when a label says glycerin, without specification, it is most likely vegetable derived.
The use of animal-fat-based glycerin is rare. The soap-making process, from which glycerin comes, is almost always vegetable-based instead of animal-based.
Glycerin is a humectant in most products. The only time it is not a humectant and can be an emollient is when it is used in very, very small amounts.
(Emollient means a substance that softens the skin)
WHAT IS A HUMECTANT?
A humectant is a moisturizing agent with the ability to retain moisture while also preserving the overall properties of the product at hand.
They are usually suitable for lotions, shampoos, and other beauty products used for your hair and skin.
USES AND BENEFITS OF GLYCERIN
1.IN COSMETICS
Given the fact that glycerin is a very popular humectant, it can be found in a wide range of cosmetic and hair care products as mentioned earlier in the article.
Translucent soaps are usually made from glycerin and tend to have a lower pH than other soaps, which makes them suitable for those with dry, sensitive skin.
The lower pH helps retain skin moisture.
Additionally, glycerin is non-comedogenic, meaning it will not clog pores (making it great for face application).
Lotions and moisturizers containing glycerin hydrate the skin making it feel smooth, supple, and healthy.
It may also be found in toners given that the purpose of a toner is to hydrate, replenish skin, provide essential ingredients, and serve as additional cleansing.
Makeup removers are intended to easily remove makeup that has been applied. People with sensitive skin can have harsh reactions to some brands.
Removers containing glycerin can quell upset skin and make makeup removal a breeze.
When applied to hair, it draws water from the air to keep your hair looking shiny and feeling nourished.
Thus glycerin can be a very great leave-in hair conditioner.
2.FOR RASHES AND INFLAMMATION
Mix half a cup of cocoa butter, and a quarter cup of coconut oil. Blend them well and feel free to melt them.
Proceed to add two tablespoons of glycerin (once the mixture is cold) and mix thoroughly.
Beat the entire mixture in a blender until it turns creamy store in a glass jar and applies to the rash.
3.FOR MINOR BURNS
Apply diluted glycerin directly to the affected area and let it absorb for roughly 20 minutes. You may then rinse it off with cold water. Feel free to repeat the process as needed.
4.AS AN AFTER-WASH
Wash your face with water and pat it gently with a clean slightly damp towel. Proceed to take a few drops of glycerin on a cotton ball and apply them all over your face. Take care to avoid the eye and the mouth areas. Let it stay for about 20 minutes before you wash it off.
5.AS A TONER
Take a quarter of a cup of glycerin and dilute it with half a cup of rose water. Store it in a spray bottle. Wash your face thoroughly and spray the solution on it.
IS GLYCERIN SAFE? CAN GLYCERIN HAVE SIDE EFFECTS?
Vegetable glycerin is commonly considered safe. However, like many healthy substances, we cannot out rule the possibility of allergic reactions, headaches, nausea, thirst, and stomach upset in some people.
According to some medical journals when ingested, vegetable glycerin in some patients causes headaches, dizziness, nausea, vomiting, and excessive thirst.
Since glycerin is a form of sugar alcohol that your body cannot fully absorb, consuming too much — either alone or through foods — may also lead to gas and diarrhea.
It is also recommended to begin with small portions when applying it as a skin remedy to monitor if there is any allergic reaction.
HOW TO MAKE YOUR SKIN GLOW USING GLYCERIN?
Here is a Youtube video that will help you make your skin glow:
CONCLUSION
Glycerin is a multi-purpose substance that we use in our day-to-day lives. Hopefully, this write-up has equipped you with more information on how to maximize its use in your life and how to be wary of the non-vegan alternative.
Please continue to read articles about what is vegan and what isn't.
Related articles:
IS ALMOND MILK VEGAN? WHAT IS THE CONTROVERSY ABOUT?
IS TOFU VEGAN? WHAT IS IT MADE OF?
If you like the article do share it with your vegan friends.